1st Sat Private Function
2nd Sun
3rd Mon Darts & Pool
4th Tues Hersham LIVE MUSIC Night! Main Hall - FREE ENTRY!
5th Wed Wednesday night BINGO - In the main hall - Join in the fun! Money to be WON!
6th Thurs Rock n Roll/ Sequence Ballroom Dance Lessons with Val
7th Fri The Surrey Blues evening - FREE ENTRY! Everyone Welcome
8th Sat
9th Sun
10th Mon Darts & Pool
11th Tues Hersham LIVE MUSIC Night! Main Hall - FREE ENTRY!
12th Wed Wednesday night BINGO - In the main hall - Join in the fun! Money to be WON!
13th Thurs Rock n Roll/ Sequence Ballroom Dance Lessons with Val
14th Fri Country Evening with Chris Kenwood - For more info goto Event Calendar
15th Sat
16th Sun
17th Mon Darts & Pool
18th Tue Hersham LIVE MUSIC Night! Main Hall - FREE ENTRY!
19th Wed Wednesday night BINGO - In the main hall - Join in the fun! Money to be WON!
20th Thurs Rock n Roll/ Sequence Ballroom Dance Lessons with Val
21st Fri The Surrey Shadows Evening - FREE ENTRY! Everyone Welcome
22nd Sat
23rd Sun
24th Mon Darts & Pool
25th Tues Hersham LIVE MUSIC Night! Main Hall - FREE ENTRY! - New Members meeting in the Members Bar
26th Wed Wednesday night BINGO - In the main hall - Join in the fun! Money to be WON!
27th Thurs Rock n Roll/ Sequence Ballroom Dance Lessons with Val
28th Fri Friday Rock n Roll with Greggi G & his Crazy gang plus Jivin Jukebox Jones - Entry only £10
29th Sat
Country Eve with Chris Kenwood
We look forward to welcoming Chris to our club on Valentines Evening 14th February

Chris caters for all types of Country music, including Line Dance, Couples/Partner Dance and Free Dance. The music he chooses comes from across the decades and includes songs from way back in the 1960s as well as some of the most modern and up-to-date material.
Dancers & Non dancers always welcome.
Doors open from 19.00pm - £8 entry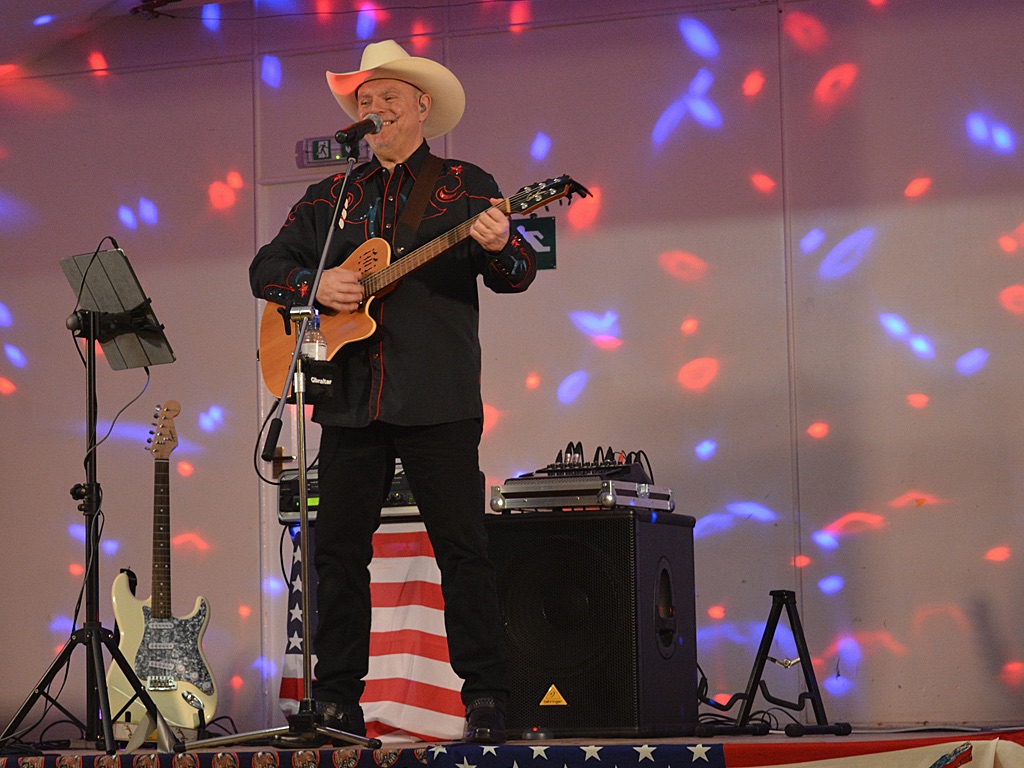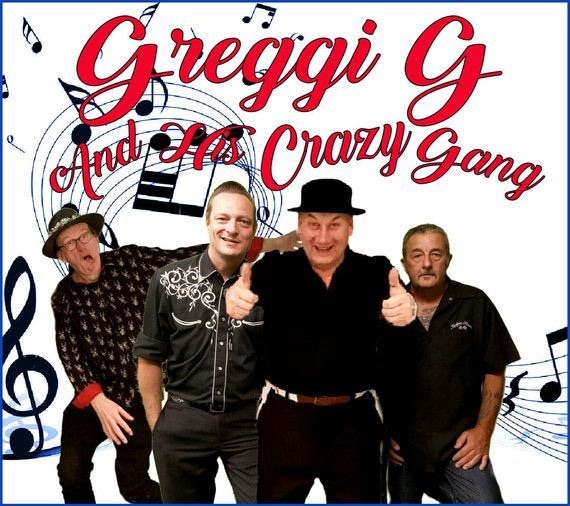 Greggi G & his Crazy Gang
FRIDAY 28TH February - 19.30pm
The Glorious Gang are one rocking rhythm outfit with two times the drive and three times the enthusiasm of what you'd normally expect , you can't fail to enjoy one of their performances. Playing a tailored mix of enthralling and lively music ranging from the 40's swing to the 80's rockabilly, their infectious style never fails to have people rockin in the aisles and filling the dance floor.

Resident DJ Jivin' Jukebox Jones to keep you on the floor in between sets.

Doors open from 19.00pm - £10 entry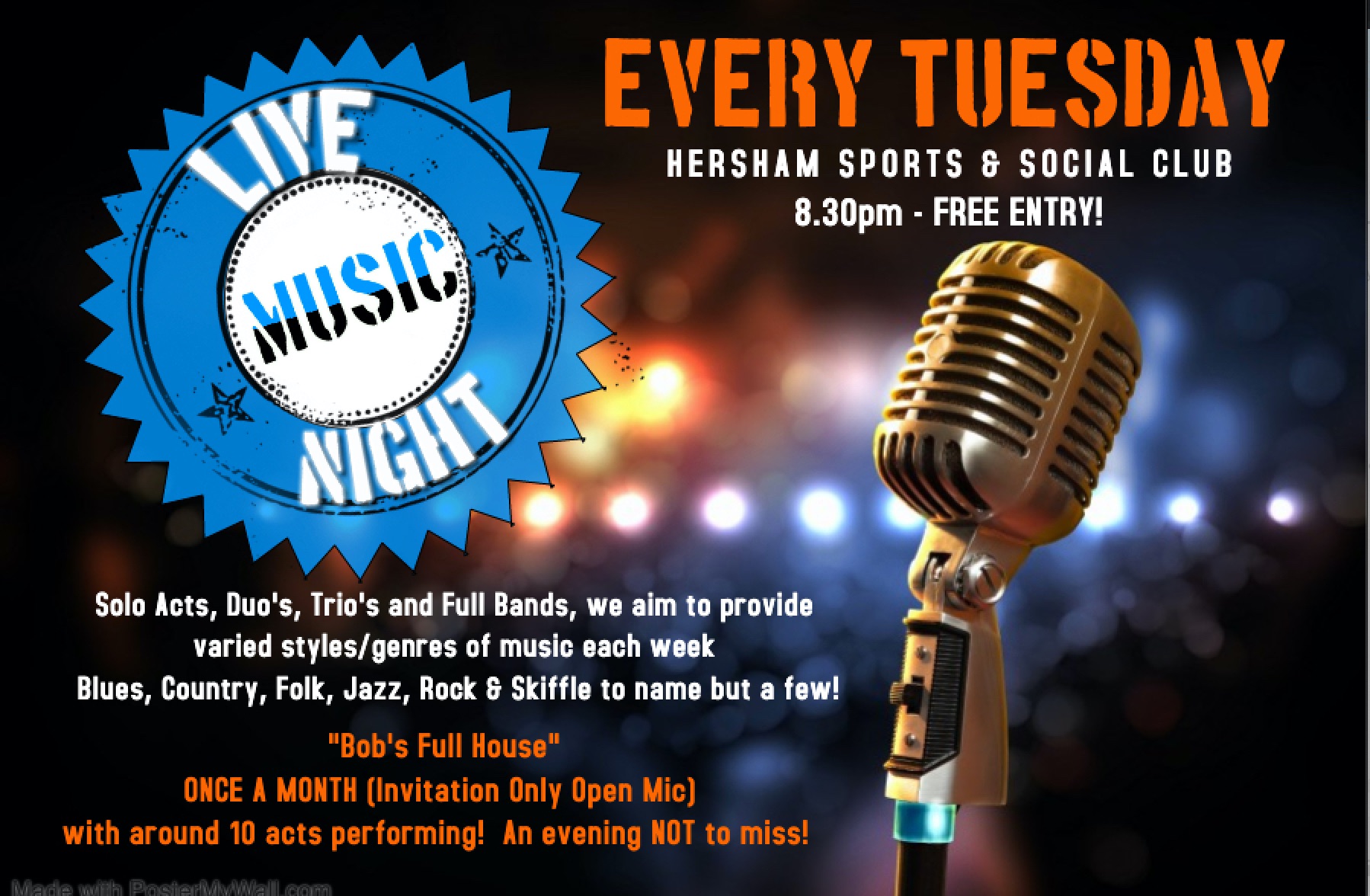 TUESDAY'S LIVE MUSIC NIGHTS - FREE ENTRY - Doors open from 7pm - acts from 8.30pm
Fairly new to Hersham Sports & Social Club, this event is held EVERY TUESDAY!
With Solo acts, Duo's, Trio's and Full Bands we aim to provide varied styles/genres of music each week; Blues, Country, Folk, Jazz, Rock and Skiffle to name but a few!
Once a month will feature "Bob's Full House" (Invitation only open mic) with around 10 acts performing. An evening NOT to Miss!!